The genetic closeness between chimpanzees and humans continues to be studied. We have much in common with chimps, and that is even more obvious in this video. While most chimpanzees can't get their hand on a nice glass of bubbly, this one managed. And they look particularly comfortable on the deck of somebody's home, enjoying a wonderful view! 
Enjoy the Sweet Life, Chimp!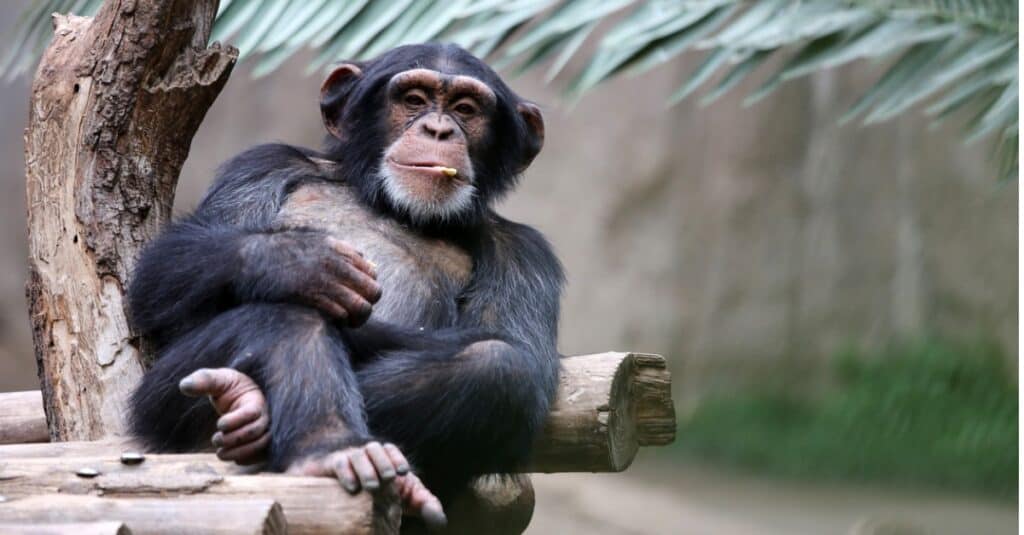 This particular video opens with a chimpanzee living his best life in a deck chair, overlooking a beautiful river. Posted by a private animal preserve and safari, it's likely that this chimpanzee receives special treatment in a variety of ways, including having their fair share of refreshments. As the camera pans closer, we see that the chimpanzee is indeed holding a glass of some sort of beverage. 
As if raising a toast, the chimpanzee lifts their dainty glass into the air and finishes the drink, all the while smiling and appearing as if they are having the time of their life. Not only does this chimpanzee have a beautiful view and a delicious drink, but they also have their feet propped up on the deck railing. It's truly a relaxing and elegant scene, especially when you consider just how similar we are to chimpanzees! 
Raise a Glass to Chimpanzees
Given the fact that we share 98% of our DNA with chimpanzees, it's obvious that this video is relatable. Chimpanzees also have highly developed social structures and brains. They are often considered the most intelligent mammal after humans. They thrive in social settings and this chimp likely enjoys their life at their wildlife safari, especially if it's complete with complimentary drinks!
When they aren't living their best life like this particular chimpanzee, most chimps feed on insects and plant matter. There are many studies that suggest that chimpanzees build their own tools and methods of procuring both food and water, something that makes them similar to humans in yet another respect. 
Just like humans, chimpanzees eat hundreds of different things depending on where they live and the availability of their food. They have an advanced and complex pallet, as this particular chimp demonstrates. It looks as if the chimpanzee in this video enjoys the finer things in life at all times, which is a lesson we can all learn no matter our species! 
Next Up:
If you enjoyed this brief and adorable video, you should definitely check out other content devoted to the fascinating and relatable chimpanzees. Here are some of our top picks: