Wolf spiders are a family of hairy and robust arachnids adapted to various habitats. They are particularly common in meadows and grasslands, but they can also live in wetlands, deserts, and mountains–anywhere they can find insects to eat. They are agile hunters with excellent eyesight provided by the three rows of eyes: the top row with two medium-sized eyes, the middle with two large eyes, and the bottom with four small eyes.
Unlike most spiders, wolf spiders live mostly in solitude, hunt independently, and do not spin webs. Most wolf spiders prefer chasing down their prey. Others ambush prey near the mouth of a burrow.
There are around 2,900 species of wolf spiders in 124 genera. It's not easy to tell them apart since they bear a striking resemblance. Most don't pose a threat to humans unless cornered or provoked. Their bites are not dangerous, though some people can be allergic to a wolf spider's venom.
Read on to find out everything you need to know about different types of wolf spiders, from how to identify them to where they can be found in the ecosystem.
1. Carolina Wolf Spider
The Carolina wolf spider (Hogna carolinensis) is the largest wolf spider in North America. Adult females can grow up to 0.86 to 1.37 inches (2.2-3.5 cm) long, while males can reach 0.7 to 0.78 inches (1.8-2 cm) long. They have a general light brown color with dark brown patterns on their backs. Males have a distinct orange coloration on their sides.
Like all wolf spiders, H. carolinensis live in either self-made burrows or ones they find. They also don't make webs to catch prey. Unlike other wolf spiders, Carolina wolf spiders are expert hunters who prefer to actively search for prey instead of waiting to ambush in the burrows.
2. Tigrosa grandis
Tigrosa grandis is a type of wolf spider only found in the United States. It is often found in Montana, Texas, and Missouri. These wolf spiders are typically large. Adult Tigrosa grandis measure between 2 to 3 inches in length. They are either black or dark brown with brown or reddish stripes running down the middle of their carapace. 
Like most wolf spiders, Tigrosa grandis tend to avoid people. They are often found wandering on the ground, in-home basements, in wood piles, and in many other places. If you come across a Tigrosa grandis, its first impulse will probably be to retreat.
3. Schizocosa mccooki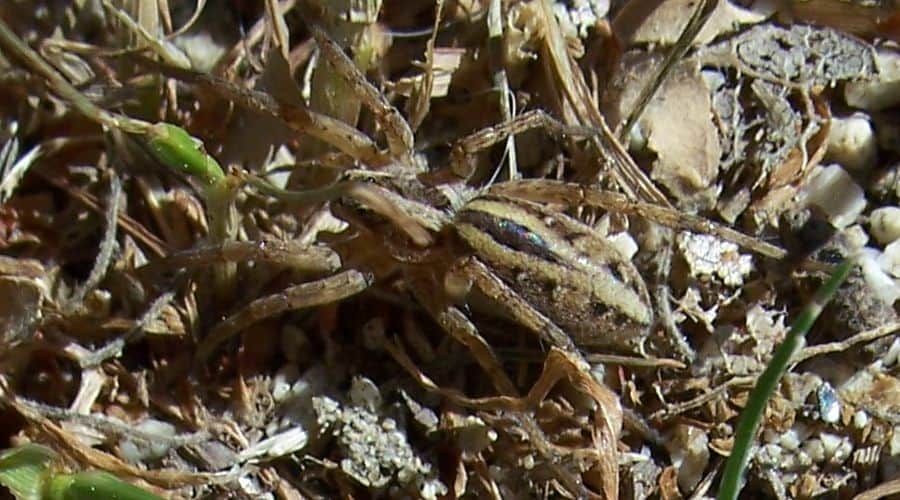 Schizocosa mccooki are fairly common in North America. They have light brown bodies with patterned cephalothoraxes and can grow up to three inches long. They prefer inhabiting open meadows or grasslands. Like most wolf spiders, Schizocosa mccooki do not pose any threat to humans. They hardly attack unless provoked.
4. Hogna frondicola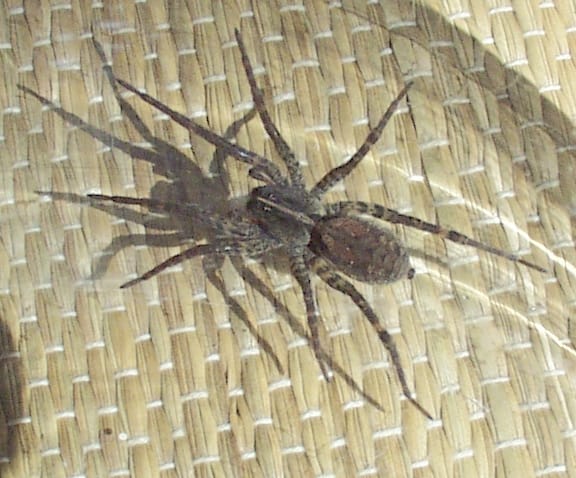 Hogna frondicola, commonly known as the forest wolf spider, is a wolf spider in the Lycosidae family. These wolf spiders are mainly found in the United States and Canada. They are slightly smaller as compared to other wolf spiders. Females measure between 11 and 14 mm, while males are approximately 9 to 12 mm.
Forest wolf spiders have large, powerful legs that give them the speed they need to hunt prey effectively. They are dark grey with a light grey stripe running down the center of their carapaces.
5. Geolycosa missouriensis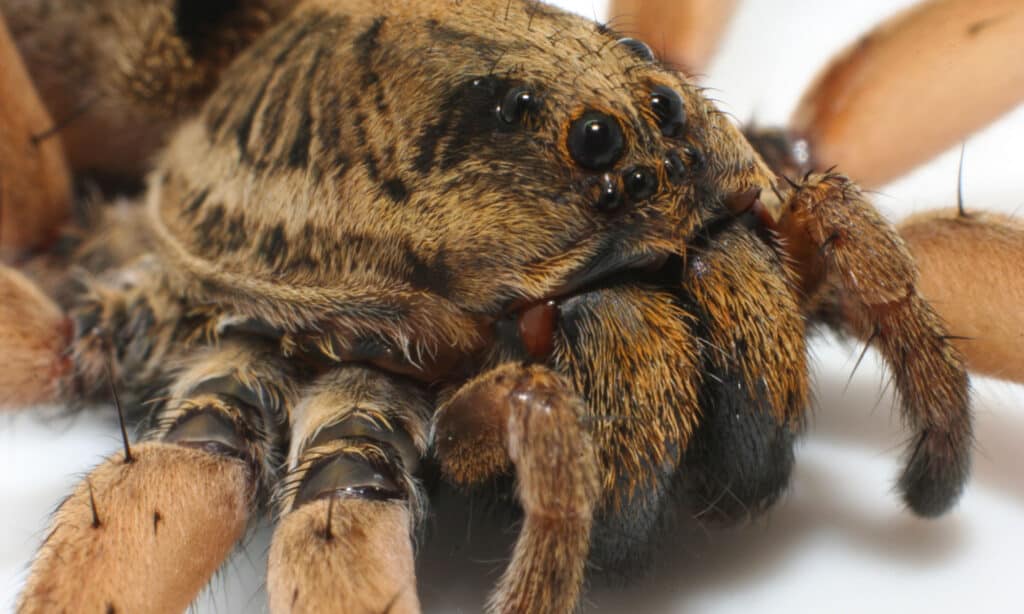 Geolycosa missouriensis is a wolf spider species mainly found in the United States and Canada. They are obligate burrowers who construct vertical burrows and retain them throughout their lives. In addition, Geolycosa missouriensis spiders are tenacious inhabitants of their burrows. They hardly move more than a few inches from the entrance and retreat fast into their burrows upon any slight suggestion of danger.
6. Rabid Wolf Spider
The rabid wolf spider (Rabidosa rabida) is one of the most common wolf spiders found across Oklahoma, Texas, and sometimes as far as Florida and Maine. Females are larger than males, with a body length of about an inch. Both sexes are typically yellow and have two dark stripes on the cephalothorax and one dark stripe on the abdomen.
Rabidosa rabida species are usually found in wooded areas and cotton fields. They attack when provoked, but their bite is harmless to humans. Like other wolf spiders, rabid wolf spiders don't build webs to catch prey. They only weave the silk they use to wrap the prey in.
7. Pardosa amentata
Pardosa amentata, commonly known as the spotted wolf spider, is a wolf spider species in the genus Pardosa. These spiders measure approximately 0.2 – 0.32 inches (5 mm to 8 mm) in length and are brown with darker brown spots.
Pardosa amentata species are spread widely in central and northwestern Europe and are common in the British Isles. Like other wolf spiders, Pardosa amentata does not weave a web to catch prey but prefers chasing it.
8. Rabidosa punctulata
Rabidosa punctulata is a wolf spider species in the Lycosidae family. These spiders are light brown with alternating dark-light brown stripes on the cephalothorax, a dark band crossing the center of the abdomen, and dark spots on the underside of the abdomen. Like other wolf spiders, they do not spin webs. Instead, they ambush or chase the prey over short distances.
9. Allocosa subparva
Allocosa subparva is a wolf spider species that live in forested areas, far from human habitats. These spiders are black and have amber-striped legs. They have a distinct tan splotch on their abdomens, and their cephalothoraxes are black. Compared to most wolf spiders which are hairy, Allocosa subparva spiders exhibit an almost hairless appearance. These spiders are small, with adults reaching approximately an inch long.
10. Koch's Wolf Spider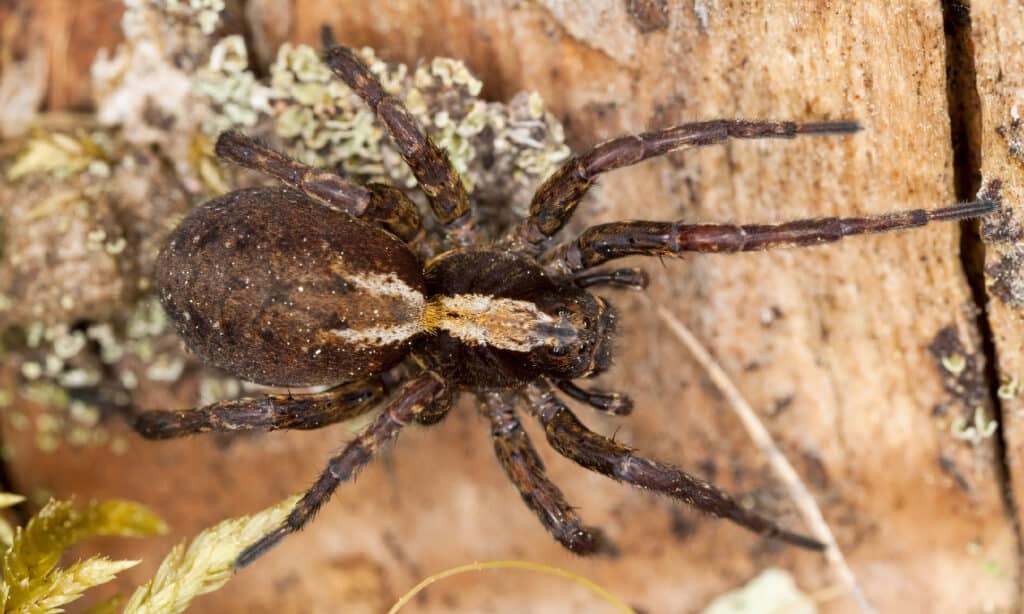 Like Allocosa Subparva species, Koch's wolf spider species prefer living outdoors, away from humans. These spiders have a unique light brown stripe on their cephalothorax, which separates two dark brown stripes. Adult Koch's wolf spiders grow up to an inch long.
Up Next: