Deer are extraordinary wild creatures! They're beautiful, elegant, and adorable. Nevertheless, there's much more to them than just their charming appearance. Do you know how complex their digestive system is or how good their eyesight is? No worries, we'll tell you everything about this!
While we cannot cover all deer anatomical structures in this article, we've focused on the most important and curious ones. Keep reading to learn some incredible facts about these ungulates!
Deer Antlers
Deer antlers are extensions of their skulls shed and regrown each year. They are only found in males, with a small exception – reindeer females are the only ones to grow antlers, although they're smaller and less branched. Antlers grow from the pedicle, an attachment point on the skull. Until they reach maturity, antlers are covered in velvet, a vascular skin responsible for providing the antler bone with oxygen and nutrients. Once they stop growing, they lose the velvet and become dead bone structures.
Not all deer shed their antlers at the same time. While those living in arctic and temperate zones shed and regrow their antlers annually, others living in tropical areas do this multiple times a year. Some species living close to the equator may never shed their antlers.
Moreover, if a deer sheds its antlers, they won't grow back the same. They may have different forms and sizes. It's believed that they get bigger and bigger with each growth, thus displaying the deer's age.
Deer Eyes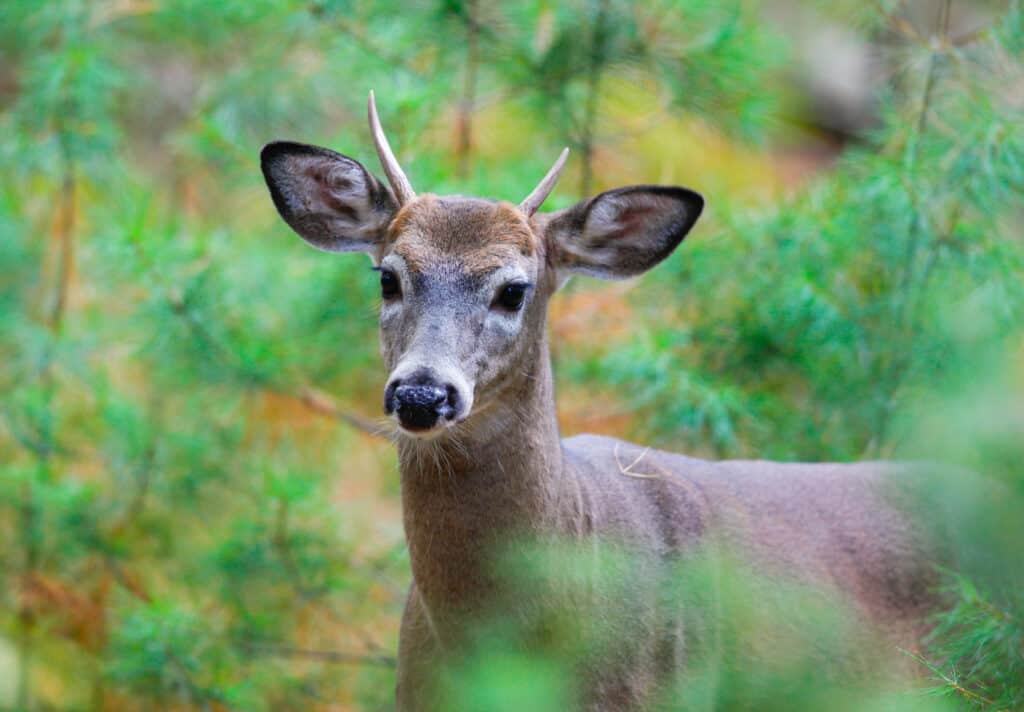 Compared to human eyes, deer eyes are much larger if we consider eye-body proportions. They are positioned on the head's sides, thus helping deer be more aware of the surroundings and detect predators quickly. With this eye positioning, deer can see at roughly 310 degrees around them! However, it also has its downside – deer have a blind spot between the antlers.
Another aspect in which deer eyes differ from human eyes is the rod and cone density. The rods in a deer's retina are much denser than cones, meaning that deer have low sensitivity to colors and high-resolution vision. Rods provide them with light and motion sensitivity only. However, records show that deer can still distinguish some colors, especially when it's dark. Their eyes are sensitive to bluish colors. 
Deer Coat
While most deer are brown, some specimens have genetic disorders that affect their coat color. Specifically, deer can have albinism, melanism, and piebaldism.
Albino deer are completely white and have pink eyes, noses, and hooves. Unfortunately, this disorder is caused by a lack of melanin and can come with other health issues like shortened jaws, arched spines, or deformed hooves.
Melanistic individuals have dark brown coats, which help them remain unnoticed in the wild. Piebald deer, on the other hand, may be either brown with white patches or almost completely white with small brown spots.
Compared to melanistic deer, albino and piebald deer are at a much higher risk of being spotted and killed by predators.
Deer Glands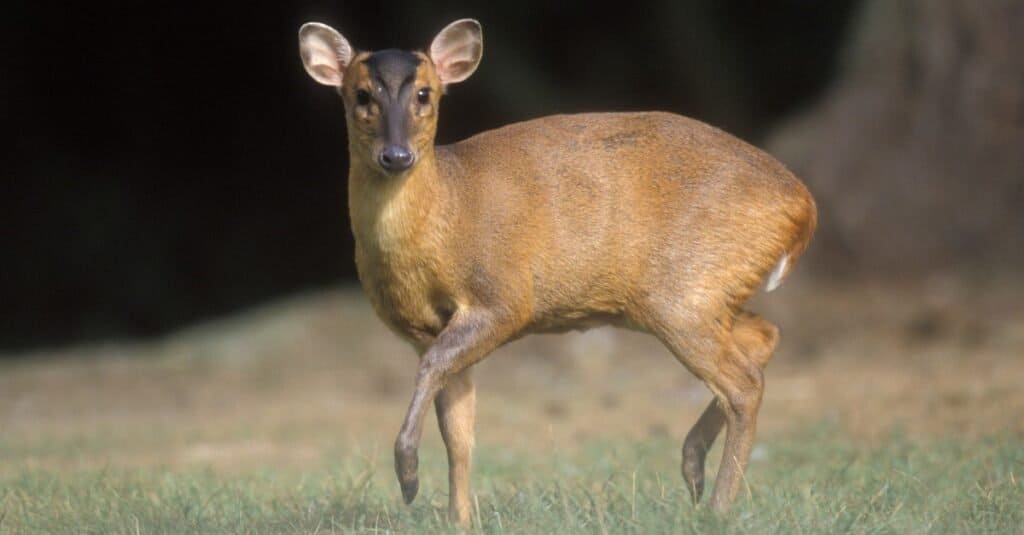 It would be impossible to discuss the glands in every deer species, as they may slightly differ due to climate and habitat adaptations. For example, mule deer have larger metatarsal glands than white-tailed deer.
However, we can at least tell you about the glands of the most common species, the white-tailed deer. Here's what glands they possess:
The salivary glands, located inside the mouth
The preorbital glands, located on the inside corner of the eye
The nasal glands, located inside the nasal passages and look like almonds
The forehead gland, located between the deer antlers' pedicles
The metatarsal glands, which look like tufts of white hair and are located on the outside of the animal's lower hind legs
The tarsal glands, located on the inside of the animal's hind legs
The interdigital glands, located between their toes (check below for hoof anatomy). They exude a distinctive odor that serves as a scent trail marker and helps them find each other in the wild.
Here's another example indicating that not all deer glands are identical. Studies show that the muntjac is the only deer species having a frontal gland – it is shaped like the letter V and is located on the forehead. Moreover, a muntjac's preorbital glands are much more prominent than on other deer. Besides this, female muntjac preorbital glands are smaller than those of male muntjacs.
Deer Digestive System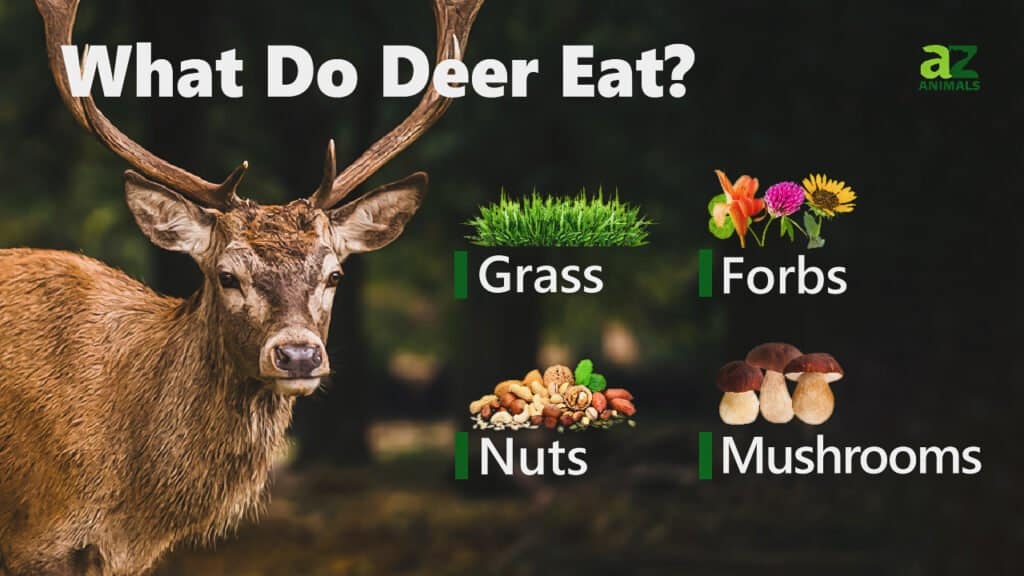 Deer are herbivores and eat plant matter that consists of cellulose. Human digestive systems aren't adapted to digest cellulose, which makes you think deer stomachs are great at this. Well, that's not actually true. They cannot digest cellulose! So how do they feed?
This is done through a symbiotic relationship with microorganisms, meaning that a deer's body hosts microorganisms that can break down the cellulose.
Deer stomachs have four chambers:
The rumen
The reticulum
The omasum
The abomasum
Some studies refer to the first and the second as one chamber called the reticulorumen because food can move back and forth between them.
Once the deer ingests the food, it arrives in the first chamber, where it becomes mixed with microorganisms that help break down the cellulose into simpler particles that can be easily absorbed. The deer then regurgitates the material (which comes back mixed with microorganisms) and chews it again. Afterward, the partially chewed food reaches the reticulum, where fermentation occurs. The material then gets into the omasum, where around 70% of the water is absorbed, as well as minerals and fatty acids. The last chamber, the abomasum, is full of gastric juices and is where primary digestion occurs. 
Deer Hooves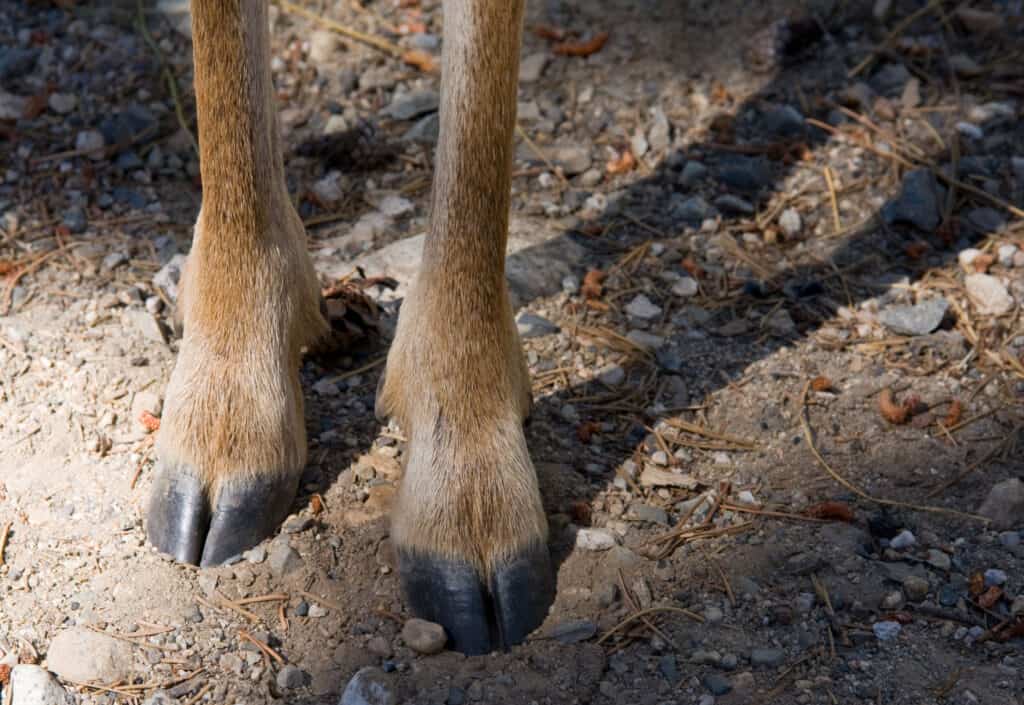 Deer have only two toes, and their tips are covered in keratin. That's why they are called even-toed ungulates.
Besides the main hooves, deer possess dewclaws. However, they aren't used for walking and rarely appear in their footprints.
The hooves of a deer help protect the tissues and the bones within the hoof, provide traction, and support the animal's weight. They are great assets for running and jumping. Moreover, hooves can help deer move silently and protect themselves from predators by striking them.
Up Next: