It's always a little bit surprising when you spot deer in the middle of the city or even the suburbs of a major city like Chicago. But they're there, waiting by the roadsides, munching on the grass, keeping an eye on things. And sniffing out the best gardens around where they can munch on your goodies.
Of course, not all of us want to share our plants with those white-tailed hoofers – and that means we need some deer-resistant plants to help keep them out of our gardens.
The following list of plants will help to keep the deer from eating other plants, particularly if you line your gardens with them. Or, at least they won't get eaten because deer just don't like them.
10 Plants That Deer Won't Eat
Lavender
Osmanthus
Swamp Milkweed
Coneflower
Heuchera
Catmint
Peony
Bearded Iris
Cardinal Flower
Bee Balm
Lavender
Lavender is one of those gorgeous plants that pulls triple or even quadruple duty. It looks amazing, smells amazing, is often used for herbal remedies and teas, and it helps keep deer away from your garden. That heady, rich fragrance we love is what keeps those hoofed forest dwellers away from the rest of our plants.
Lavender plants don't like humidity and grow well between Zones 5 and 9. The plant is mostly low maintenance, too, though you do need to watch out for mites and aphids. Plant lavender in well-drained soil with full sun exposure for your best growth.
Osmanthus
If you love the scent of magnolias or gardenias, you'll love this less well-known flowering shrub Osmanthus. The plant pops out tiny white flowers that release a sweet fragrance that humans love and deer hate. The plant also has spiny leaves that deer hate trying to eat, so they'll skip it and move on. This makes the shrub a perfect border plant for helping to keep deer away from the garden.
It's an easy to grow shrub that does well in a range of settings from light level variances to soil types. They do best in Zones from 7 to 10.
Swamp Milkweed
Growing well in Zones 3 to 6, swamp milkweed is a beautiful meadow and wetland plant that produces incredible blooms that draw in hummingbirds, bees and butterflies, but runs off deer. The ostentatious pink to mauve flowers put out an incredible fragrance and beautiful leaves that monarch butterfly caterpillars particularly love to munch on. Deer, though, aren't so keen.
The plants will grow wild, for sure, but don't let the word "weed" in the name put you off. The plants are amazing additions to butterfly gardens, especially if you have other plants within that deer like to nosh.
Coneflower
If you love a double-duty plant, think of the coneflower. This beautiful little daisy-looking blossom grows well in Zones 3 to 9 and happens to be the plant that's known as Echinacea in herbal remedy circles. The flowers put out a lovely fragrance that we humans adore – but rabbits and deer kind of hate, along with the spiky leaves that hurt their mouths.
Coneflowers come in a range of colors, but the most well-known is the purple coneflower. The plant is disease resistant and attracts pollinators, and does well in well-drained soil and full to medium sun.
Heuchera (Coral Bells)
Heuchera, or coral bells, are a beautiful perennial plant that pops out brilliant foliage and tiny spikes of flowers in midsummer. The flowers come in deep red/burgundy (almost black) to chartreuse green, and everything in between. The striking plant is almost always shunned by deer who just don't like the flavor, the smell, and the texture of the plant.
The plant grows best in Zones 4-9 and hardy enough to handle a range of light conditions, extreme temperatures, humidity, drought, and poor soil. They're pretty hard to kill, too, even if you're a novice.
Catmint
If you're looking for an easy to grow deer repellent plant, consider catmint. It's a gorgeous plant that handles heat, drought, any soil type, and other rough goings, but still blooms for weeks on end from mid to late summer.
The plant does best in Zones 3 to 9, lasting from blooming time to frost, offering up a delightful fragrance that humans love and deer hate.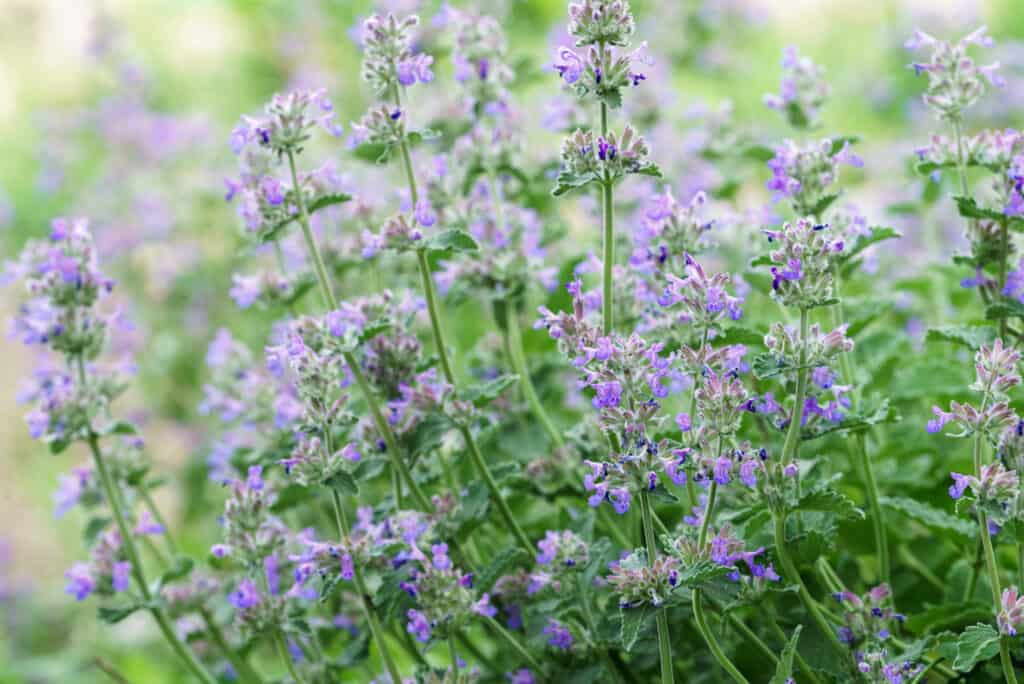 Peony
For gardens with old world class, peonies are the perfect deer repellent plant. The beautiful old-fashioned blooms offer up heavenly fragrances that deer and rabbits don't like. The flowers come in practically every color and form imaginable, too.
Peonies do best in Zones 3 to 8, in full sun (though they can tolerate half day sun). They need to be sheltered from intense winds and shouldn't be planted too close to shrubs and trees. Plant them in deep, nutrient-rich soil and keep the well-draining soil moist.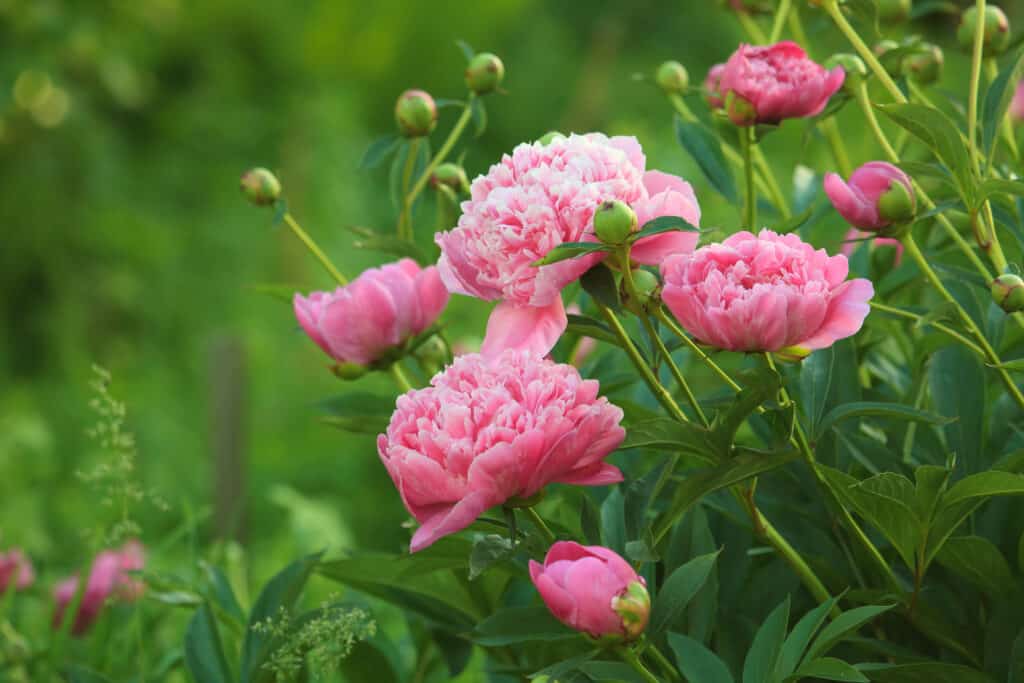 Bearded Iris
While we love the looks of bearded iris blooming in our flower beds, deer don't like the scent and taste of the flowers. The flowers come in a huge range of colors, including deep purple, pale purple, maroon, yellow, marigold, orange, white, red, blue, black, and practically every other color you can imagine.
Bearded irises need to be planted in sunny, well-drained soil, in Zones 3 to 9. Once they've been planted, keep the soil moist but avoid over watering the plants, as too much water can rot the rhizomes in the soil.
Cardinal Flower
Growing strong in Zones 3 to 9, the cardinal flower is a striking red, white, or scarlet flower that pops out in summer months from July to September. The fragrant blooms attract pollinators and run off deer and rabbits who simply don't like the flavor and smell of the plants.
Cardinal flowers tolerate full sun, but prefer partial shade, with the soil kept moist, especially in cooler locations. They tolerate poor drainage, as well, and the damp soil that results in such a situation.
Bee Balm
The final plant on our list is the ever-gorgeous bee balm plant. The blooms draw humans and pollinators alike, but deer hate the heavily scented leaves of the plant. Bee balm plants (any of the varieties) make fantastic border plants and herbal garden additions.
Bee balm does best in Zones 3-9, with evenly moist soil, with waterings every 7 to 10 days during season. They need full sun for their happiest life, or shade in hotter climates.
Up Next: